The Lacey Act: A Brief History and New Requirements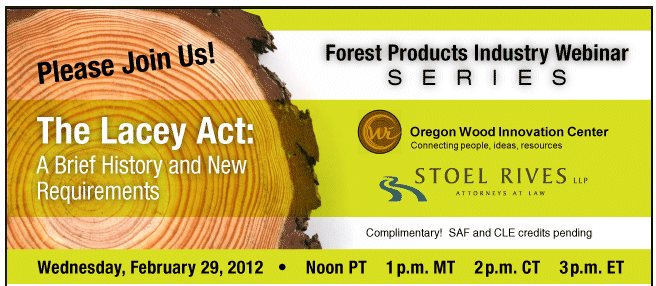 Please join the Oregon Wood Innovation Center and Stoel Rives LLP on Wednesday, February 29, 2012 at 12 p.m. PT for this exclusive hour-long seminar on The Lacey Act: A Brief History and New Requirements. Special guest speaker, Gary Lougee, will delve into an explanation of the guidance that APHIS has provided to the public, including updates and frequently asked questions to help allay many industry concerns. This presentation will provide you with:
Overview of the Lacey Act
New 2008 requirements
APHIS explanation, updates and FAQs
Introduction and Welcome
Christopher Knowles is an Assistant Professor in Forest Products Marketing at Oregon State University who works with the Oregon Wood Innovation Center (OWIC) where his role is to help improve the competitiveness of the Oregon forest products industry. The function of OWIC is to be the key link to innovation related resources for people in the forest products industry.
Presenter
Gary Lougee is a Lacey Act Staff Officer with the APHIS. Gary is a frequent presenter on the Lacey Act and its effects on various industries. The APHIS works to protect animal and plant resources in the U.S. from agricultural pests and diseases.
Space is limited! If you are able to participate via webinar, please register here. Webinar instructions will be sent to all attendees prior to the event day.
If you are local and prefer to attend in person, please register here by Tuesday, February 21, 2012.
When:

Wednesday, February 29, 2012
Noon - 1 p.m. PT

Where:

Stoel Rives LLP
900 SW Fifth Avenue
19th Floor
Portland, Oregon 97204

Parking:

Parking validations will be provided for most nearby parking garages.

Cost:

Complimentary

Questions?

Please contact Trina Gremaux at tcgremaux@stoel.com or (503) 294-9226