Western Hardwood Association Design Competition - 2018
WHA's first Design Contest featured entries from forestry and design students attending Oregon State University and the University of Oregon.  Twenty-four students submitted their design to a panel of judges.  The selected finalists then manufactured their design and presented it at the show on June 1st in Corvallis at OSU.  There, awards were made for Best of Show, Best Lighting, Best Furniture, Best Design for Production.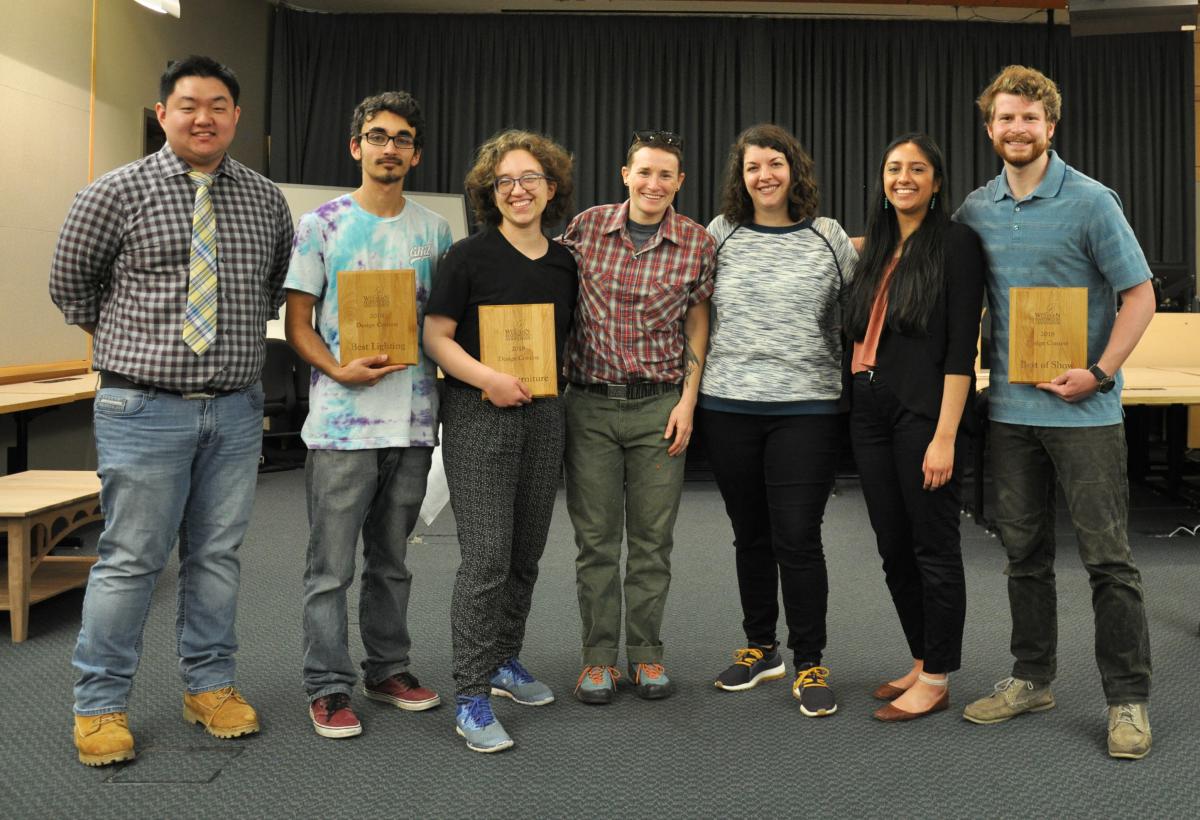 Students and instructors: Left to right: Kebin Kang, Aidan Head, Claudia Andersen, Katherine Edmonds (Wood Shop Technician), Ruth Fore (Instructor), Alondra Flores, and Brandon Schleiger.
| | | |
| --- | --- | --- |
| Brandon Schleiger's Flavor Profiler made from Oregon white oak was awarded Best of Show.  He received a plaque and $500.  The Flavor Profiler operates like three concentric Lazy Susans, which each spin independently of each other. |   |   |
|   |   | Best Lighting went to Aidan Head, who made a Slatted Wall Lamp from western black walnut.  Aidan received a plaque and $250. |
| The Depoe Bridge Coffee Table, was Claudia Andersen's entry.  The table was inspired by the Depoe Bay, Oregon, bridge that spans the mouth of Depoe Bay, officially stated as the world's smallest navigable harbor, and is listed on the National Register of Historic Places.  Claudia's table was selected Best Furniture and she received a plaque and $250 for her Pacific madrone entry. |   |   |
|   |   | Best Design for Production was bestowed on Kebin Kang for his Just Bier beer sampler.  Made with layers of Oregon white oak veneer, and as a singular component, it is easy to manufacture.  For his entry he received a plaque and $250. |
| Runner-up was Alondra Flores' entry named Tray1.  Tray1 was made with maple and is unique because it can display gourmet food creations without casting a shadow on the lower tray.  Alondra received an award of $100. |   |   |