Lumber Drying Workshop
How to Dry Lumber for Quality & Profit Workshop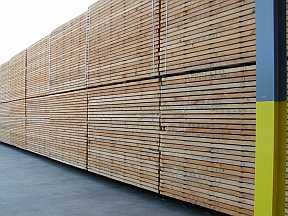 Kiln operators, supervisors, and others associated with industrial lumber drying have benefited from How to Dry Lumber for Quality and Profit, offered annually at OSU since 1949.  It has been revised and updated, to an online format.  Participants will gain an understanding of
wood structure, how water moves through it, and how internal stress is developed and relieved.
controlling the temperature, relative humidity, and air velocity to create drying schedules that remove water quickly while minimizing defects and stress and maintaining color.
the components of kiln heating, humidification, and airflow systems, how they operate, and how they are controlled and maintained.
lumber is prepared for drying and protected after drying including sorting, stacking, charge preparation, and dry track management,
quality control procedures needed to consistently produce quality lumber in a cost effective way,
the demands placed on the kiln operator by the sawmill and planer and how to be safe around kilns.
The course content is presented in online modules, webinars, and discussion assignments.  Attendance requires no travel.  The course is offered in two formats.
WEBINAR FORMAT (Oct 14 to Dec 8, 2019)
The webinar format consists of two to three online modules done weekly and four two-hour webinars.  There are also seven discussion assignments designed to have participants reflect on current practices and stimulate online discussion. 
SELF-PACED FORMAT (always available)
The self-paced format consists of 29 online modules and seven discussion assignments.
For dates and registration information please see:
   https://pace.oregonstate.edu/catalog/lumber-drying-online-workshop
or contact
   Department of Wood Science & Engineering
   Tel: 541-737-4210 (leave message)
   Email: mike.milota@oregonstate.edu
Program sponsored by the Wood Science & Engineering Department at Oregon State University, the Oregon Wood Innovation Center, and Wood Moisture Solutions LLC.