2018 Lumber Drying Workshop
How to Dry Lumber for Quality & Profit Workshop
December 17-19, 2018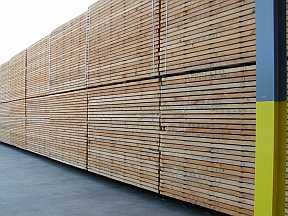 The purpose of this course is to provide a basic understanding of wood and how to dry it.  Practical, up-to-date information will be provided on wood properties and how wood dries.  You'll learn how both steam-heated and dehumidification kilns are made, operated and maintained, and how to create and modify kiln schedules for different species.  Drying to meet the European quality standards and heat treating standards will also be discussed.
What to expect…
One day will be spent on wood as a material and how it dries, culminating with drying schedules.  One day will be spent on kiln equipment, how to operate it, and how to maintain it.  One-half day will be devoted to quality control.  Throughout all parts, how the kilns connect and interact with the sawmill and planer will be covered.
Conference Fees & Cancellation Policy:
The conference fee is $775.  Click on the link below to register (coming soon).  Registration is available through our online registration portal. Please note that you will be prompted to set up a new account before the conference registration options are presented.
<registration link - coming soon>
Cancellation requests must be made in writing to conferences@oregonstate.edu two (2) weeks prior to the start of the conference.  Cancellation requests received by that time will receive a refund of registration fees minus a $50.00 administrative fee.  Substitutions may be allowed.  Please contact the conference organizers for approval.  The College of Forestry reserves the right to cancel courses.
Lodging and Directions:
Attendees are responsible for all hotel reservations.  A block of rooms will be reserved at the Hilton Garden Inn Corvallis at a rate of $xxx per night.  REGISTER at the link below (coming soon).
<hotel registration link>
Other accommodations can be found by visiting the Corvallis Tourism Site.
Parking:
All visitors must have parking permits displayed in your car while parking on campus.  You may pre-purchase you parking permit by using this website.  If you will be staying at the Hilton Garden Inn complimentary parking is available in their parking lot.  OSU operates a shuttle around campus that picks up very near to the Hilton Garden Inn.
Go HERE for a parking map.  Parking questions can be directed to 541-737-2583.
Getting to OSU:
All workshops will be held in Richardson Hall (Room 107) on the Oregon State University Campus.   See the parking map above for directions.  It is a 15- to 20-minute walk from the Hilton Hotel.
Sign in starts at 7:30, Monday, December 17.  The workshop will end about noon, Wednesday, Dec. 19.
For Further Information about the program, please contact:
Mike Milota at mike.milota@yahoo.com.
Program sponsored by the Wood Science & Engineering Department at Oregon State University and the Oregon Wood Innovation Center.