Lumber Drying Workshop
How to Dry Lumber for Quality & Profit Workshop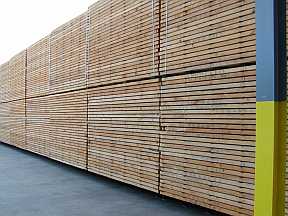 Kiln operators, supervisors, and others associated with industrial lumber drying have benefited from How to Dry Lumber for Quality and Profit, offered annually at OSU since 1949.  It is now offered online at three levels. 
LUMBER DRYING COMPLETE
This is the most comprehensive level and designed for workers managing kilns.   All topics in the Basics class are addressed, usually in more detail.  In addition, there is more information on modifying kiln schedules, statistical bases for moisture measurements, energy savings, airflow analysis, and other topics.  The learner completes four of eight suggested discussion assignments by posting an experience or example related to the topic.  There are eight webinars where almost half of the material is presented and discussions can occur.  Overall, the course requires 20 to 30 hours to complete.  The course will occur from October 11 to December 10, 2021 with webinars at 8 to 9:15 or 9:30 am Pacific time on October 12, 19, 26, November 2, 9, 16, 30, and December 7.
LUMBER DRYING BASICS
This class is for individuals working at kilns.  It comprehensive enough for most kiln personnel.  The narration time is 6-1/2 hours and, with quizzes, 10 to 14 hours are needed to complete the class.  It is self-paced and available anytime.
LUMBER DRYING FOR NON-KILN PERSONNEL
New for 2021. Quality drying starts well before the lumber enters the kiln.  This level is for personnel who need to interact with the kilns but not operate one.  It will benefit personnel who prepare lumber and load and unload kilns.  It would also benefit maintenance personnel and managers in other departments.  Why lumber is dried and how kilns work are covered and the impacts of sorting, stacking, and handling on kiln performance are discussed.  Handling of dry lumber is also covered.   Examples of the costs of poor practices are included.   The narration time is one hour and the course can be completed in under two hours.  It is self-paced and available anytime.
---
For additional information, including class outlines, and to register please see:
   https://pace.oregonstate.edu/catalog/lumber-drying-online-workshop

or contact
   Department of Wood Science & Engineering
   Tel: 541-737-4210 (leave message)
   Email: mike.milota@oregonstate.edu
This page will be updated in July, 2022.
Program sponsored by the Wood Science & Engineering Department at Oregon State University, the Oregon Wood Innovation Center, and Wood Moisture Solutions LLC.