Green Building Webinar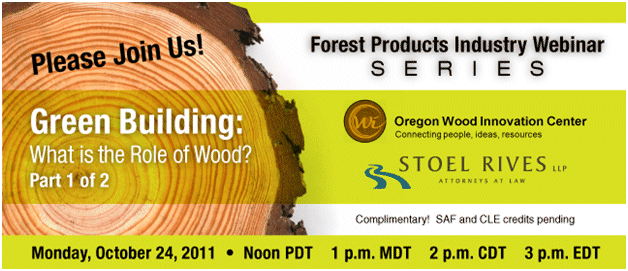 Please join the Oregon Wood Innovation Center and Stoel Rives LLP on Monday, October 24, at 12 p.m. PDT for this exclusive hour-long webinar on green building and the role of wood (Part 1 of 2). Green building has been growing rapidly in recent years. Despite the recent economic downturn, the green building market actually grew over the last five years. This presentation will provide you with:
an overview of the major green building systems in the US for both residential and non residential construction markets.
an overview of changes proposed to the major green building systems, and the role of wood.
Introductions and Welcome
Greg Corbin is a partner and chair of the Stoel Rives LLP Forest Products Industry Practice. Greg represents forest products industry clients in a variety of transactional and regulatory matters, including all aspects of timberland sales and acquisitions, 1031 exchanges, easements and other real property deals, timber harvest and timberland management contractual matters, log export restrictions and import regulations, regulatory compliance and permitting, and many of the day-to-day operational issues faced by the forest products industry.
Presenter
Christopher Knowles is an Assistant Professor in Forest Products Marketing at Oregon State University who works with the Oregon Wood Innovation Center (OWIC) where his role is to help improve the competitiveness of the Oregon forest products industry. The function of OWIC is to be the key link to innovation related resources for people in the forest products industry.
When: Monday, October 24, 2011
11:30 a.m. - Registration and lunch
Noon - 1 p.m. - Presentation
Where: Stoel Rives LLP
900 SW Fifth Avenue, Suite 2600
Portland, Oregon 97204
Parking: Parking validations will be provided for most nearby parking garages.
Cost: Complimentary
Questions? Please contact Trina Gremaux at tcgremaux@stoel.com or (503) 294-9226.