2015 Lumber Drying Workshop
How to Dry Lumber for Quality & Profit Workshop
December 7-9, 2015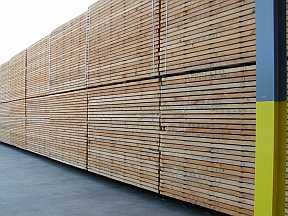 The purpose of this course is to provide a basic understanding of wood and how to dry it. Practical, up-to-date information will be provided on wood properties and how wood dries. You'll learn how both steam-heated and dehumidification kilns are made, operated and maintained, and how to create and modify kiln schedules for different species. Drying to meet the European quality standards and heat treating standards will also be discussed.
What to expect…
Information will be presented by university practitioners and researchers, consultants, and industry representatives using multimedia and laboratory exercises. Lunch with manufacturers' representatives will help you appreciate the range of equipment available. You will receive printed materials dealing with different aspects of the course.
If you are involved with lumber drying and its management and want practical, hands-on training and knowledge, this course has something for you.
The Registration Fee Includes:
The conference registration fee of $775.00 includes all course materials, refreshment breaks each morning and afternoon as well as lunch on Tuesday and Wednesday. To register please click HERE.
Conference Fees & Cancellation Policy:
Cancellation requests need to be made in writing via email no later than 5:00 pm (PST) on Friday, November 18, 2015 in order to receive a refund (minus a $50.00 administrative fee). Refunds will not be made for cancellation requests after 5:00 pm (PST) Friday, November 18, 2015. (Substitutions may be allowed)
The College of Forestry reserves the right to cancel courses.
Lodging and Directions:
Lodging:
Attendees are responsible for all hotel reservations. At the following hotels, please mention that you are with the How to Dry Lumber for Quality and Profit Workshop upon booking to access the group rate.
Hilton Garden Inn: There a select number of room available at the Hilton Garden Inn-Corvallis, at a special group rate of $119.00 per night plus tax. Call
541-752-5000 to make your reservation by phone or to book online go HERE. Let them know you are attending the Lumber Drying Workshop at OSU. Reservations must be made before November 13, 2015 to access the group rate.
Other accommodations can be found by visiting the Corvallis Tourism Site.
Parking:
Richardson Hall has very limited parking space. All visitors must have parking permits displayed in your car while parking on campus. You may pre-purchase you parking permit by using this website. If you will be staying at the Hilton Garden Inn complimentary parking is available in their parking lot. OSU operates a shuttle around campus that picks up very near to the Hilton Garden Inn.
Go HERE for a parking map. Parking Questions can be directed to 541-737-2583
.
Getting to OSU:
All workshops will be held in Richardson Hall 107- Oregon State University Campus.
Sign in starts at 7:30, Monday, December 7. The workshop will end about 2:30, Wednesday, Dec. 9.
For Further Information about the program, please contact Mike Milota at mike.milota@oregonstate.edu or 541-737-4210.
Program sponsored by the Wood Science & Engineering Department at Oregon State University and the Oregon Wood Innovation Center.